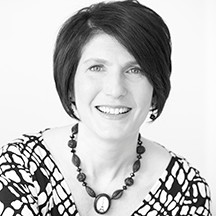 Vanessa Schaefer loves a creative challenge. For 25 years, Vanessa, co-founder, creative director, and owner of Clockwork Design Group, Inc., has brought the creative and marketing goals of large and small organizations to fruition.
"I am passionate about helping my clients achieve and exceed their marketing goals," says Vanessa. "I work with companies of all sizes to create strong brands and powerful, memorable designs."
Vanessa's diverse industry experience focuses on professional service firms such as law firms, engineering firms, architecture and construction companies, and accounting and financial advisory firms, but also includes technology companies and educational organizations.
The wide range of creative services Vanessa and her team provide spans from complete brand analysis and implementation, to the design and development of websites, brochures, stationery, ad campaigns, direct mail, trade show graphics, and more.
The company's blog regularly proffers valuable insights, actionable tips, and good reading on topics such as marketing, design, and branding.
Before beginning Clockwork Design Group, Inc., Vanessa held art director and creative director roles at several ad agencies and in-house marketing departments, including Veterinary Learning Systems, Jordan Marsh (now Macy's), and Focus Enhancements. She was the 2012 Mass Lawyers Weekly Excellence in Law recipient for Marketing. Clockwork is ranked as one of the Top Boston Web Design firms and Top Boston Branding Agencies by Clutch, as well as a Top Web Design Company by WebDesignRankings.com.
A graduate of Smith college with a BA in Fine Arts, Vanessa continues to volunteer for her alma mater. She is also on the volunteer Graphic Design Department Board of Advisors at Middlesex Community College.
Regarding her least favorite food, Vanessa is one New Englander who is not a fan of oysters.