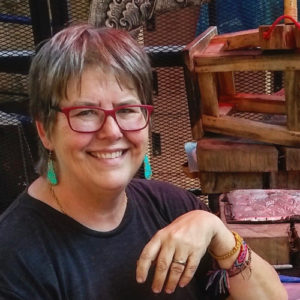 Karen Christians lives her passion. She wonderfully describes herself as "a self-employed jewelry evangelist who teaches jewelry, makes jewelry, and writes about it."
In her studio at Western Avenue Studios in Lowell, Massachusetts, Karen designs and creates jewelry using a variety of metals, precious and semi-precious stones, natural materials, and found objects. Karen's expertise is in teaching jewelry, writing and consulting jewelry teaching shops and buildout for maker spaces (Artisans Asylum, Makerspace Thailand, Riva Workspace in Brooklyn, NY, Concord Art Center, and art organizations).
Karen is also a former Board Chair of Education at Loading Dock Arts. Among her achievements in that role was the development of the speaker series for Loading Dock's The Art of Business and the Business of Art program. The series features top artists, writers, financial experts, public art experts, and art curators. Speakers have included Beatrice Coron and Head Curator Beth Conrad McLaughlin from Fuller Craft.
Western Avenue Studios, a non-profit, is the largest artists' community on the East Coast. It is also home to The Loading Dock Gallery, a cooperative artist-run gallery. Both were founded to offer professional development and support for artists, as well as to improve the city of Lowell and contribute to its cultural community.
A graduate of Massachusetts College of Art and Design with honors, Karen received a BFA in Metals. She shares her expertise and skills through workshops with names such as "Soldering Bootcamp" and "Bad Ass Home Ecc." She also spends three to five months in Chiang Mai, Thailand, working at Was Sri Suphan (also known as the Silver Temple), learning Thai meal chasing. Eventually, she wants to take artisans to Chiang Mai and provide them with learning opportunities.
Karen has authored a number of articles and books. Her most recent book, Jewelry of Burning Man, explores over 1000 pieces of jewelry from the festival, and includes interviews and stories about many of the pieces and their makers. The jewelry collection has been in eight museum exhibitions, including two solo shows at Fuller Craft Museum and the Renwick Smithsonian. Karen is currently working on her second book, Jewelry of Star Trek.
Karen says she is inspired by other artists –particularly Maggie Schpak, who designed jewelry for Star Trek–and by the students at MassArt (Massachusetts College of Art and Design). She is also inspired by MassArt, itself. ("Studying at Mass Art did not make me a better artist, but rather, it inspired me to ask better questions.")
Currently, Karen is in search of a content writer and distributor for social media via Instagram, her blog on karenchristians.com, and a monthly or bimonthly newsletter. Additionally, she is looking for an Estate Lawyer whose expertise is in Estate Trusts and who can assist with creating an endowment for Massachusetts College of Art.
Along the lines of food, though Karen creates beauty with metals, she does not necessarily think highly of some of the things that come inside metals — particularly canned vegetables.