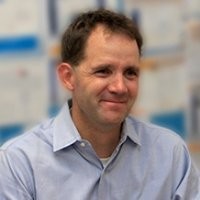 Chip Terry is founder and CEO of OysterTracker, a startup company whose aquaculture management platform provides sustainable local shellfish growers with a mobile system to manage their businesses and leases.
Read an article about OysterTracker here.
A love for the sea is reflected in various areas of Chip's life, from the company he founded (OysterTracker), to his life outside work. Having grown up in Maine, Chip is an avid sailor, races sailboats, and was on the Oxford University (England) Sailing Team. He is passionate about providing sailing experiences and educational opportunities to at-risk kids, and is currently active on the board of Courageous Sailing, an award-winning Boston youth charity that provides sailing experiences and educational opportunities to more than 1200 youth.
With a curious mind and a love for new challenges, Chip not only has a background in History (he earned a Ph.D in History from Boston University), he has worked with various organizations around the globe to help them find solutions for navigating the ever-changing world of technology and big data. He has led product and engineering teams at organizations such as BzzAgent (a startup focusing on word-of-mouth marketing), and ZoomInfo (a natural language processing company).
Chip's Treehouse Ask is to connect with someone who can help with MongoDB performance tuning to build a scalable architecture that connects the more than 10,000 shellfish farmers worldwide.
Incidentally, despite his passion for the ocean, the food Chip most dislikes is mussels.