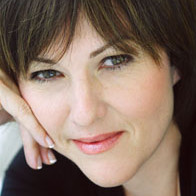 Gioia De Cari, performing artist, actor, writer, and singer, is Founder and Producing Artistic Director of Unexpected Theatre. Her background in mathematics (she has a Master of Science in Mathematics from MIT), provided inspiration for Unexpected Theatre's first show, the award-winning Truth Values: One Girl's Romp through M.I.T.'s Male Math Maze, which has become an unexpected hit.
Unexpected Theatre is a non-profit whose mission is "to illuminate the lives and amplify the voices of women in fresh and unexpected ways, to offer a forum for women to share their stories and explore their collective history."
Truth Values was created in response to the suggestion by Lawrence Summers, former President of Harvard, that "women are less represented than men in the sciences because of innate gender differences." The show has played to sold-out audiences across the U.S., was a winner of the New York International Fringe Festival Overall Excellence Award, and has been nominated for a 2019 IRNE Award.
Truth Values has also recently been awarded a grant from the Alfred P. Sloan Foundation to create an accompanying educational program for women studying in the STEM fields, Truth Values Community.
Gioia is looking for 80 graduate students to register and attend the event in April. Students may apply here: https://www.truthvaluescommunity.com/.
Additionally, she is looking for several sponsors to offer prizes to students who attend.
You can view Gioia's MIT unConference talk about the origins of Truth Values Community, and read more about her work on Slice of MIT .
Gioia is also involved in Women & Wine on Wednesdays, a networking organization that aims to connect women on both a social and professional level. She is seeking space in New York City where the group can meet.
Clearly, Gioia, who is also a Harvard Fellow, is skilled at balancing left and right brain, and hopefully with a minimum of headaches.